Overview
A POS-n-go dealer sells our service to local small businesses in retail, food service and personal services. You assist the client with hardware selection and installation. Many times this will coincide with the payment terminal install.

To help you track your POS-n-go clients, we will provide a secure web portal account. Use it to manage your clients, order hardware, ask questions and see your commission performance.

Dealer Web Portal
Dashboard with POS-n-go news and the past 12 months commission.
Manage clients and devices, check client activity.
Detailed help manual.
Order POS supplies and hardware.
Full access to client web portal for set up and support.

Training & Support
Features and functions online video slideshows.
Online demo system accessible 24x7.
Dealer support tickets.

Multiple Revenue Streams
Ongoing 33% POS-n-go service commission.
Ongoing 50% payment processing margin commission.
Direct hardware sales margin.
Hardware installation and service set up fees.

What Our Dealers Say
"POS-n-go is very competitive and there's a lot there, twice as much compared to other POS systems."
Ron Pomerleau, RKP Atlantic Business Services
Elegant
An elegant hybrid POS service that includes a secure cloud account, robust stand-alone operation and real-time data backup in different geographic locations.
Flexible
Flexible hardware and configurable features perform in many types of small businesses.

Retail - clothing, gift, pet, equipment, grocery, consignment and book stores.
Food Service - fine dining, quick service, bars, night clubs and food trucks.
Personal Services - hair salons, dog groomers, tanning, spa, and professional services.
Hybrid - retail & restaurant, book store & cafe, salon services & products.

Loaded Features
Online retail store.
Online ordering and booking.
Appointment book.
Inventory management, including online sales.
Customer and supplier management.
Unlimited operators, categories and products and menu items.
70+ reports on sales, inventory and financial performance.
B2C marketing tools, email receipts, loyalty points and gift cards.

Advanced Dashboard
POS-n-go news and software notices.
24/7 support tickets.
Daily sales for the past 10 days.
Monthly sales for the past 12 months with past year comparison.

Easy & Intuitive
Easy to learn.
Intuitive to use.
Context sensitive help manual.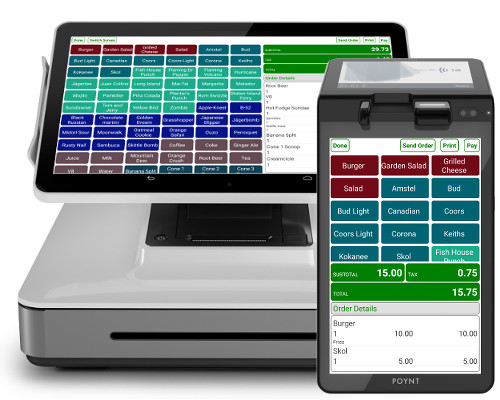 Only $29.99 / month / device
Select any payment processor.
Integrated to Chase Paymentech, Clover, Elavon, Global Payments and Nuvei.
Lowest payment processing rates with Cost+ pricing.
BookNet Canada integration.
Certified legal trade scale integration.
Elo Paypoint certified.
Poynt Smart Terminal certified.

Your Monthly Revenue Share
33% POS-n-go service
50% payment processing margin
Become a Dealer Today
Do you provide local, in-person service to your clients? Download the dealer agreement. Send the completed agreement to admin@posngo.com. We will add you to our dealer network and create your dealer portal account.
Click below to download the dealer agreement.